Robert J. Hartman
I am an assistant professor of philosophy at Ohio Northern University (2022-).
Previously, I was a visiting assistant professor of philosophy at Tulane University (2021-2022), a visiting research professor and faculty fellow at the Center for Ethics and Public Affairs in the Murphy Institute at Tulane University (2020-2021), a postdoctoral research fellow at Stockholm University, Sweden, (01/2019-08/2020), and a postdoctoral research fellow at the University of Gothenburg, Sweden, (02/2017-12/2018). I earned my PhD at St. Louis University in May 2016.
Email: roberthartman122@gmail.com


.
RESEARCH
My research interests are in ethics, metaphysics, and the philosophy of religion. I have published extensively on moral luck; currently, I am writing a monograph on character and free will as well as a series of papers about character and free will in philosophy of religion.
BOOKS
In Defense of Moral Luck: Why Luck Often Affects Praiseworthiness and Blameworthiness (Routledge, 2017)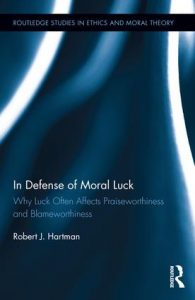 In this monograph, I defend the thesis that certain kinds of luck in results, circumstance, and character can partially determine the praise and blame a person deserves.
The Routledge Handbook of the Philosophy and Psychology of Luck, edited with Ian M. Church (Routledge, 2019)
This interdisciplinary handbook explores the history of luck, the nature of luck, moral luck, epistemic luck, the psychology of luck, and future research on luck.
PUBLIC PHILOSOPHY
Free Will and the Moral Vice Explanation for Hell's Finality
The Analytic Christian YouTube Channel (2023)
Free Will and Moral Luck
The Free Will Show Podcast (2022)
Moral Luck
Aeon (2017)
ACADEMIC ARTICLES
Circumstantial and Constitutive Moral Luck in Kant's Moral Philosophy
European Journal of Philosophy (forthcoming)
Free Will and the Moral Vice Explanation for Hell's Finality
Religious Studies (forthcoming)
Gratitude to God for Our Own Moral Goodness

Faith and Philosophy (forthcoming)
Free Will and Moral Luck

A Companion to Free Will (2023)
The Out of Character Objection to the Character Condition on Moral Responsibility, with Benjamin Matheson
Thought (2022)
Concomitant Ignorance Excuses from Moral Responsibility

Thought (2021)
Heavenly Freedom and Two Models of Character Perfection

Faith and Philosophy (2021)
Consequentialism and Virtue, with Joshua W. Bronson
The Handbook of Virtue and Virtue Ethics (2021)
Indirectly Free Actions, Libertarianism, and Resultant Moral Luck

Erkenntnis (2020)
Against the Character Solution to the Problem of Moral Luck

Australasian Journal of Philosophy (2020)
Moral Luck and the Unfairness of Morality (Awarded the Routledge, Taylor & Francis Prize by the APA)

Philosophical Studies (2019)
Kant Does Not Deny Resultant Moral Luck

Midwest Studies in Philosophy (2019)
Accepting Moral Luck

The Routledge Handbook of the Philosophy and Psychology of Luck (2019)
Luck: An Introduction, with Ian M. Church 

The Routledge Handbook of the Philosophy and Psychology of Luck (2019)
Constitutive Moral Luck and Strawson's Argument for the Impossibility of Moral Responsibility 
Journal of the American Philosophical Association (2018)
Armstrong on Probabilistic Laws of Nature, with Jonathan D. Jacobs
Philosophical Papers (2017)
Counterfactuals of Freedom and the Luck Objection to Libertarianism
Journal of Philosophical Research (2017)
Against Luck-Free Moral Responsibility
Philosophical Studies (2016)
Utilitarian Moral Virtue, Admiration, and Luck
Philosophia (2015)
How to Apply Molinism to the Theological Problem of Moral Luck
Faith and Philosophy (2014)
Involuntary Belief and the Command to Have Faith
International Journal for Philosophy of Religion (2011)
BOOK REVIEWS
Manipulated Agents: A Window into Moral Responsibility, by Alfred R. Mele

Journal of Moral Philosophy (2020)
Aspiration: The Agency of Becoming, by Agnes Callard

Philosophical Quarterly (2019)
Responsible Belief: A Theory in Ethics and Epistemology, by Rik Peels

Ethics (2018)
TEACHING
I have broad teaching interests in ethics, social and political, metaphysics, free will and moral responsibility, philosophy of religion, biomedical ethics, business ethics, moral psychology, epistemology, early modern philosophy, and logic as well as in the history of philosophy.
Classes Taught
Philosophy of Law
Ethics, Justice, and Law
Professional Ethics (2x)
Social and Political (2x, upper division)
Philosophy of Religion (1x, upper division)
Ethics (12x)
Logic and Critical Thinking (2x)
Introduction to Philosophy (2x)
Christian Worldview
Philosophy and Theology in CS Lewis's Narnia Series (J-term course)
Student Comments
"This was my first experience in a philosophy class, and it has genuinely been one of my favorite classes I have ever taken. I was always interested in the readings and the topics we discussed, and the discussions we had in class were entertaining and engaging. I have already planned to take another philosophy course next semester. Thank you so much for being such a thoughtful, committed professor and for making this such an amazing class."(Social and Political, Fall 2021)
"The fact that my classmates and I feel comfortable enough to raise objections, offer counter arguments, and engage in substantial debate over important fundamental and social arguments is not common in most of my classes; I appreciate the work Professor Hartman does to facilitate these conversations. Overall, I would recommend anyone to take this course or any of Professor Hartman's classes." (Social and Political, Fall 2021)
"I've thoroughly enjoyed your class and your energetic teaching style. It made each class a joy to participate in, and yours quickly became my favorite. I also thank you so much for helping me realize philosophy as a great minor to add on … it's a passion I hadn't discovered."(Social and Political, Fall 2021)
"Professor Hartman is so passionate about the material and clearly loves his students!" (Ethics, Fall 2021)
"Professor Hartman teaches with uplifting enthusiasm and constantly inspires students to form stronger and better ways of perceiving the world." (Ethics, Fall 2021)
"My ability to listen to the opinions of others and to work off of that to form my own, based off the information I already have, has greatly improved."(Ethics, Fall 2021)
"Professor Hartman is super organized and makes the material very easy to follow, even when the reading left me completely confused the night before." (Ethics, Fall 2021)
"I really loved this course. Professor Hartman laid out the projects, tests, and papers exceptionally clearly, and he taught class in a very efficient and organized but engaging manner."(Ethics, Fall 2021)
"The discussions are very interesting and allowed for easy participation as they drew me in. I am now interested in a subject I never thought I would be, and will definitely be looking forward to taking more philosophy classes at Tulane." (Ethics, Fall 2021)
Student Resources
Philosophy Students Ask Valuable Questions
Does God exist?
Do we have free will?
What makes actions right and wrong?
What is the good life?
What makes life meaningful?
How do the mind and body relate?
What does it mean to be the same person over time?
What distinguishes mere true belief from knowledge?
*Disclaimer* The opinions expressed in these videos and podcasts do not necessarily reflect my own.
More Benefits of Studying Philosophy
Affiliation Links
Scholarly Links