Robert J. Hartman
I am a postdoctoral research fellow at Stockholm University, Sweden (January 2019-present).
I was a postdoctoral research fellow at the University of Gothenburg, Sweden, with the Lund-Gothenburg Responsibility Project (February 2017-December 2018).
I earned my PhD in philosophy from St. Louis University (May 2016).
Email: roberthartman122@gmail.com


.
RESEARCH
My research interests are at the intersection of ethics and metaphysics. I have published extensively on moral luck; currently, I am working on a monograph about relations between character and moral responsibility for actions.
BOOKS
In Defense of Moral Luck: Why Luck Often Affects Praiseworthiness and Blameworthiness (Routledge, 2017)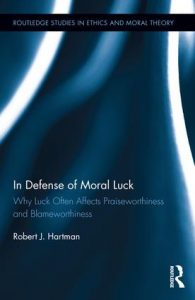 In this monograph, I defend the thesis that certain kinds of luck in results, circumstance, and character can partially determine the praise and blame a person deserves.
The Routledge Handbook of the Philosophy and Psychology of Luck, edited with Ian M. Church (Routledge, 2019)
This interdisciplinary handbook explores the history of luck, the nature of luck, moral luck, epistemic luck, the psychology of luck, and future research on luck.
PUBLIC PHILOSOPHY
Moral Luck, Aeon (2017)
ACADEMIC ARTICLES
Indirectly Free Actions, Libertarianism, and Resultant Moral Luck

Erkenntnis (forthcoming)
Consequentialism and Virtue, with Joshua W. Bronson
The Handbook of Virtue and Virtue Ethics (forthcoming)
Against the Character Solution to the Problem of Moral Luck

Australasian Journal of Philosophy (2020)
Moral Luck and the Unfairness of Morality

Philosophical Studies (2019)
Kant Does Not Deny Resultant Moral Luck

Midwest Studies in Philosophy (2019)
Accepting Moral Luck

The Routledge Handbook of the Philosophy and Psychology of Luck (2019)
Constitutive Moral Luck and Strawson's Argument for the Impossibility of Moral Responsibility 
Journal of the American Philosophical Association (2018)
Armstrong on Probabilistic Laws of Nature, with Jonathan D. Jacobs
Philosophical Papers (2017)
Counterfactuals of Freedom and the Luck Objection to Libertarianism
Journal of Philosophical Research (2017)
Against Luck-Free Moral Responsibility
Philosophical Studies (2016)
Utilitarian Moral Virtue, Admiration, and Luck
Philosophia (2015)
How to Apply Molinism to the Theological Problem of Moral Luck
Faith and Philosophy (2014)
Involuntary Belief and the Command to Have Faith
International Journal for Philosophy of Religion (2011)
BOOK REVIEWS
Manipulated Agents: A Window into Moral Responsibility, by Alfred R. Mele

Journal of Moral Philosophy (forthcoming)
Aspiration: The Agency of Becoming, by Agnes Callard

Philosophical Quarterly (2019)
Responsible Belief: A Theory in Ethics and Epistemology, by Rik Peels

Ethics (2018)
TEACHING
I have broad teaching interests in ethics, metaphysics, free will and moral responsibility, biomedical ethics, moral psychology, epistemology, philosophy of religion, and logic as well as in the history of philosophy.
Classes Taught
Ethics (8x)
Introduction to Philosophy (2x)
Logic and Critical Thinking (2x)
Philosophy of Religion (upper division)
Christian Worldview
Philosophy and Theology in CS Lewis's Narnia Series (interim course)
Student Resources
Philosophy Students Ask Valuable Questions
Does God exist?
Do we have free will?
What makes actions right and wrong?
What is the good life?
What makes life meaningful?
How do the mind and body relate?
What does it mean to be the same person over time?
What distinguishes mere true belief from knowledge?
*Disclaimer* The opinions expressed in these videos and podcasts do not necessarily reflect my own.
More Benefits of Studying Philosophy